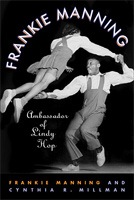 Reviews and Reader Responses
"Dance writer and swing dancer Millman conducted extensive interviews with Manning for a vivid account of his career. . . . the first-person accounts of Manning's life capture his vibrancy, humor and charm. . . this vivid memoir by one of swing dancing's innovators and stars is a must for lovers of dance, jazz and African-American history."
—
Publishers Weekly
"Dancer/librarian Millman calls Manning 'a prime innovator of the Lindy' and captures the sensation of the lindy hop (a.k.a. the jitterbug). Manning's personality comes across via his vivid descriptions of dance contests, the excitement of choreographing, and the lindy's decline and revival. He also discusses the racism he faced in the U.S. Army during World War II and while on tour. . . . This is an interesting and significant piece of the swing dance record valuable for its oral history."
—
Library Journal
"Manning covers a jumpin' and jivin' career that won't quit. . . . Making 'guest appearances' here are many great dancers and musicians from the Swing Era and beyond."
—
The Seattle Times
"Still dancing at 93, Frankie's account, sensitively co-written by Cynthia Millman, throws new light on broad swathes of original jazz dance practices. . . . his story significantly enlarges our understanding of 20th century popular dance."
—
Dancing Times
"I loved this book! If you get me on the first few pages, which this book did, I'm hooked. I loved hearing about all those great jazz musicians from a dancer's point of view."
—
Wycliffe Gordon, jazz musician and composer
"And now we have Frankie Manning-master of the oral, written, and dance forms of storytelling. . . . Sit down with the book and you will feel you've sat down with Frankie Manning in person to hear the wonderful story of his life. . . . Cynthia has included information on the various dances mentioned . . . These asides from the main story are rich in detail."
—
SwingDancer.com
"A swing dance enthusiast, Cynthia R. Millman, who was inspired by the Lindy Hop's unrecorded history, has provoked an apparently ageless Frankie Manning into revealing his first hand knowledge of an African American dance phenomenon that was first popularized in 1920's Harlem dance halls. . . . And if that were not enough Ms. Millman created two books in one: Manning's autobiography and bulleted Dance History sections."
—
JazzReview.com
"I couldn't stop smiling while reading it."
—
M. Thompson, Amazon.com customer review
"Having heard Frankie talk at various dance camps, and having interviewed him once, I thought that there wasn't going to be much more to know when I started reading this. Boy was I wrong! I just couldn't put it down once I started reading, and finally finished at 4 a.m."
—
Henry Hui Hui, Amazon.com customer review
"Aside from having biblical stature in the Lindy Hop community, it's extremely entertaining to the dancer and non-dancer alike. My only complaint is that it was so good I never wanted it to end!"
—
Daniel Conner, Amazon.com customer review
"Frankie, you are an American treasure. Take your place among the world's greatest, where you've always belonged!"
—
DanielinDenver, Amazon.com customer review