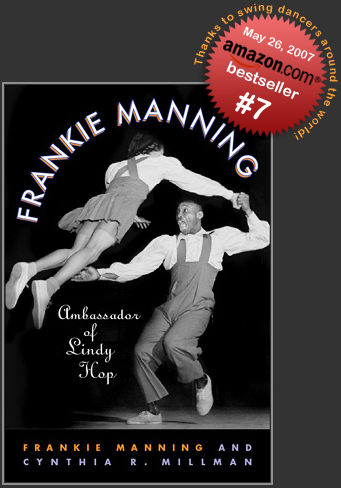 FRANKIE MANNING:
AMBASSADOR OF LINDY HOP
1914-2009
In Memory of Frankie

Although legendary Lindy hopper Frankie Manning passed away in 2009, his spirit lives on in the hearts and feet of swing dancers around the world. Frankie is remembered and revered for his vital role in the history and revival of swing dancing, as well as for his radiant and charismatic personality. His legacy is hugely important and widely influential.
Frankie's deepest wish was that swing dancing live on. Inspired by their hero, enthusiasts around the globe are devoting themselves to this mission. New swing dance organizations are springing up everywhere and established scenes are growing. These creative and energetic communities sponsor many activities, projects, and events including:
* workshops * weekends * camps * competitions * exchanges * children's programs * performances * choreography * flash mobs * articles * books * lectures * panels * documentaries * film festivals * websites * online forums * blogs * Facebook groups * live streaming * fund raisers * scholarships * works of art * photography * and of course dances, often to live big band music, in an array of sizes, locations, venues, and themes.
For more information about this incredibly special person and the Lindy hop, I invite you to explore the rest of this site and the websites listed below. You'll find bios, photos, interviews, historic and recent film clips, and related links. These materials will give a sense of what an amazing person Frankie was, why he devoted his life to the dance he loved so much, and why he is still so beloved.
Collaborating with Frankie on Frankie Manning: Ambassador of Lindy Hop was one of the greatest experiences of my life. I'll be eternally grateful that I had the opportunity.
Cynthia R. Millman
Co-author, Frankie Manning: Ambassador of Lindy Hop
Board of Directors, Frankie Manning Foundation
THE BOOK
Frankie Manning: Ambassador of Lindy Hop covers Frankie's fascinating life story, including his childhood, dancing at the fabulous Savoy Ballroom, performing on stage and screen with Whitey's Lindy Hoppers, seeing active duty in World War II, running his own post-war troupe, The Congaroo Dancers, and being rediscovered by a new generation of Lindy hoppers after working in the post office for thirty years!
Order Frankie's Biography
Click to order Frankie Manning: Ambassador of Lindy Hop on Amazon.com
Click to order Frankie Manning: Ambassador of Lindy Hop on Temple University Press
Translations
French: Translation by French by Christian Rolland. Click to order.
Italian Click to order.
Japanese: Translation by Nammy Ogata. Click to order.
Audiobook
Read by Derrick Hardin. Produced by Margy Bauman and Redwoods Publishing. Available at Amazon Click to order.

ORGANIZATIONS & INITIATIVES
Frankie Manning Foundation
After Frankie passed away, the Frankie Manning Foundation was founded to carry on his legacy through educational and cultural activities. This site has lots of information about Frankie and the Foundation's programs, and many wonderful film clips.
Frankie Month
Throughout the merry month of May, swing dancers around the world celebrate Frankie Month and the joys, benefits, and universality of Lindy hop with dances, parties, concerts, competitions, educational events, and other initiatives that demonstrate the diversity, creativity, and ingenuity of this international community.
BIRTHDAY CELEBRATIONS
Frankie 100
Over 2500 dancers from 47 countries will convene for Frankie 100 from May 22nd-26th, 2014 in New York City. The event will include dances, performances (including a show at the famous Apollo Theater), educational panels, films, youth programming, and even a parade. Many events are open to the public.
Frankie 99
Over 130 swing dance societies around the world celebrated with local parties. Many submitted videos of their members performing a special tribute routine choreographed in Frankie's style by Ewa "W" Burak and Lennart Westerlund.
Frankie's 95th Birthday Festival
When Frankie died one month before Frankie Manning's 95th Birthday Festival in New York City, the event was recast as Frankie95, a celebration of his life by over 2,000 attendees from 33 countries.
Birthday Tribute Films
Three stunningly conceived and edited films were created as perfect birthday presents for Frankie:
For Frankie's 80th, Stuart Math and Kathy LaCommare gathered and edited clips of Lindy hoppers around the world swinging out to Frankie's favorite song, Count Basie's "Shiny Stockings." Note: the billboard in Times Square is real! Click to watch Frankie's 80th Birthday Video.
Manu Smith (editor), Larry Kang (project manager), and Paul Marino (CG animation) made a film featuring an international array of Lindy hop groups dancing to "Shiny Stockings" for Frankie's 88th birthday. Check out the Star Wars inspired intro! Click to watch Frankie Manning's 88th Birthday Tribute Video.
For Frankie's 95th, Akemi Kinukawa blended clips of thousands of dancers from 22 countries dancing to Jimmie Lunceford's "Tain't What You Do" in Global Shim Sham for Frankie. (Leslie Lee and Rik Panganiban helped gather the clips.) Click to watch Global Shim Sham for Frankie.
MULTIMEDIA RESOURCES
Documentary
Julie Cohen's PBS documentary, Frankie Manning: Never Stop Swinging, features interviews with Frankie; his son, Chazz Young, also a dancer; and Whitey's Lindy Hopper Rhuthie Rheingold; as well as dance footage from the 1930s to 2009.
Radio Interview with Authors
Kurt Lichtman's extensive radio interview with authors Frankie Manning and Cynthia Millman for WBVR Ithaca is divided into twelve sections.
Master's Thesis and Companion DVDs
Margaret Batiuchok's master's thesis, The Lindy, covers its history, and explores the dance styles of four Lindy hop masters, including Frankie Manning, George Lloyd, and Charlie Meade. DVDs feature interviews and these masters dancing in the 1980s.
Archives of Early Lindy Hoppers
Judy Pritchett's website, SavoyStyle.com, contains bios of Frankie and many other early Savoy Ballroom dancers, including members of Whitey's Lindy Hoppers.
Facebook Pages
Frankie Manning Foundation
Frankie Manning – Lindy Hop
Frankie 100 - Multiple pages representing groups from all over the world.